Introducing Do Not Track Kids: A Privacy App to Keep Children Safe Online
Children are victims of intense online surveillance. Our latest app blocks tracking and teaches kids about online privacy.
[Update: check out the launch coverage of DNT Kids in the Washington Post and in Gizmodo.]
According to a recent study by Super Awesome cited in an excellent article about children's privacy in the Washington Post, "By the time a child reaches 13, online advertising firms hold an average of 72 million data points about them."
Another recent study by ad fraud company Pixalate identified and analyzed 1,000 of the most-popular "child directed" apps available. The study showed that more than two-thirds of the top kids apps found in Apple's App Store and 79% of the top kids apps found in Google's Play Store collect and share personal information. For example in the top child-directed apps, 76% found in the Play Store and 67% found in the App Store transmitted location data; 73% found in App Store and 35% in the Play Store had the potential to access personal data via permissions; and 50% found in the Play Store and 33% in the App Store transmitted IP address.
These studies are by no means outliers. One recent study revealed that 90% of educational apps and websites sent information to ad-tech companies. And in 2020 a study of pre-school apps showed that two-thirds collected and shared identifying information.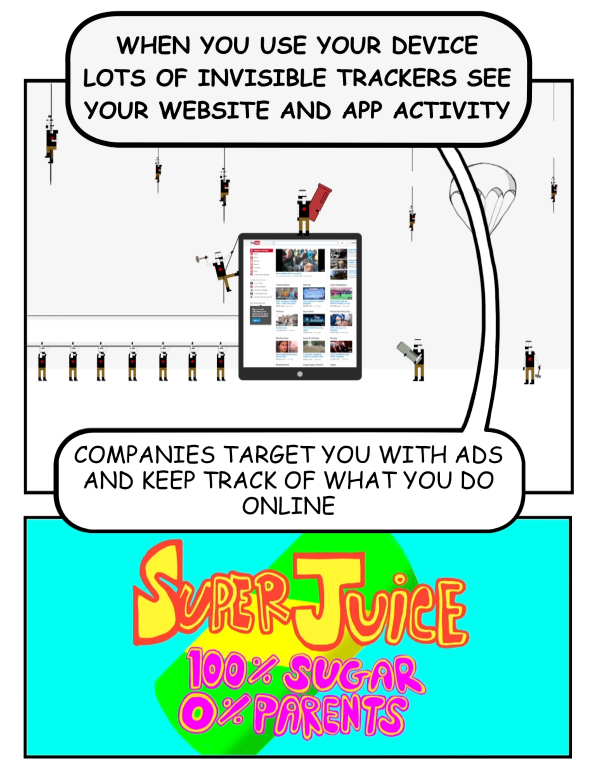 We recently launched a dedicated category to protect children against TikTok surveillance. As our announcement made clear, "TikTok is a Massive and Growing Surveillance and Propaganda Threat". TikTok has been the most popular app over the past few years and According to the New York Times one-third of TikTok's users are reportedly 14 and under. TikTok not only collects and analyzes everything its users do inside their app, but TikTok collects extremely personal information across a range of highly sensitive websites - WebMD, MayoClinic, PlannedParenthood, etc. - and tracking not just TikTok users but ALL website visitors including children.
The extent to which kids are being tracked is shocking and may have serious implications as children are more susceptible to being manipulated online. The more that marketers know about a child, the easier it is to control the thoughts and actions of that child. In many cases, marketers are trying to get the child to click an ad, and in fact research suggests that children often can't distinguish between ads and content. Sketchy ads are just the tip of the iceberg; data collected about our children could also be weaponized by a bad actor, or an adverse nation state, to influence their views on things like geo-politics, personal freedoms, or religion.
This should be illegal, but there's a well-known loophole that trackers exploit.
The idea that children's privacy should be protected is not controversial. Literally no politician would publicly oppose stopping online surveillance of children at the scale that is happening. Yet the only law in the U.S. that specifically protects children's privacy has a massive and very well-known loophole that pretty much all trackers utilize.
The Children's Online Privacy Protection Act (COPPA) makes it illegal to collect certain data about a child IF the tracker has actual knowledge that the subject is a child. So guess what trackers do? They pretend to close their eyes so they can avoid actual knowledge that a user is a child. This practice is so widespread that a 2018 study of over 5,000 popular children's apps discovered most of them were potentially violating COPPA.
Common sense dictates that an app that is specifically created and marketed to pre-school age kids would in fact be used by children. But unless the app developer specifically asks the user's age, they can just keep on tracking and embedding surveillance technologies created by big tech companies like Facebook and Google, or thousands of smaller data brokers you've very likely never heard of, that are in the business of collecting and selling personal data.
The sad reality is that trackers are legally able to collect and share data about users they clearly know are children and then target kids with manipulative ads and messages specifically tailored to their interests and online activity.
Do Not Track Kids educates kids about privacy and blocks trackers across all websites and apps.
Do Not Track Kids is the first app designed specifically to educate kids about online privacy and help protect their devices from hidden tracking. Disconnect utilizes innovative technology and deep privacy expertise to block trackers and ads that secretly collect children's data inside apps, browsers, and email! DNT Kids works across the entire device to prevent tracking of location, website visits, app and email activity, and more. DNT Kids also blocks malicious ads and content that threatens you and your child's security.
In addition, DNT Kids encrypts and filters the Domain Name System (DNS) connections your device makes in the background. DNS encryption prevents snoopers from accessing your browsing history and is an important security feature.
Finally, DNT Kids provides lessons on a broad range of privacy issues. The app helps your child learn about online safety and how to take control over their personal data and online safety.
Once you or your child turn on protection, feel free to close the app and use the device as usual as our protection quietly keeps the device safe. Use this app as standalone protection or in combination with our other great privacy apps! Download Disconnect Kids on all your iOS devices today!